Anesthesia Machine Service and Repair
ASE offers a prompt and economical on-site anesthesia machine repair and maintenance service. Our extensive inventory of parts for obsolete models enables us to repair most anesthesia machines. We specialize in supplying such hard-to-find items as:



Absorber canisters

Turret valve disks and domes

Needle valves

Flowmeter tubes
Vaporizer Service and Repairs
Modern anesthetic vaporizers are precision pieces of equipment which are manufactured to the highest standards and tolerances. With regular servicing, they should be expected to give many years of trouble-free service.
Vaporizer manufacturers recommend annual maintenance for most models currently in use. If they are neglected, buildup of preservatives and contaminants in the internal channels results in loss of accuracy, sticking of the dial and, in severe cases, internal corrosion and damage that may render the vaporizer unrepairable.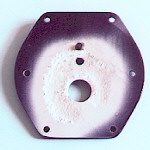 ASE can service, recalibrate and repair most makes of vaporizer, including many older models no longer supported by their manufacturers.
Ohio
Cyprane/Ohmeda
Foregger
Drager
Penlon
---
Home | Machines | Vaporizers | Accessories | Links | Contact ASE